Walks to explore the area Snowdonia and Ceredigion Coast
Here are a few of our favourites walks and recommendations showing off the best of the Welsh coastline
Aberystywth, Ceredigion - Visit Wales
Our highlights
Constitution Hill: 2016 Year of Adventure
A vigorous walk up the 430 foot (131 metre) high Constitution Hill will be well worth the effort to enjoy the panoramic views of Cardigan Bay, Llyn Peninsula, Snowdonia and the nearby university town of Aberystwyth.
There's something for everyone here for the adventurers amongst you or if you simply want to relax at the summit's complex.
By rail or by foot?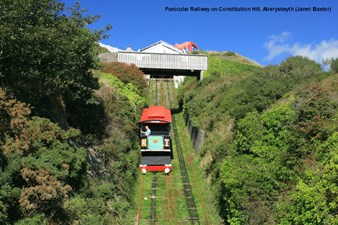 Tucked away on the cliff side of this hill is home to Britain's longest funicular electric cliff railway (778 foot-long / 237 metres) – the Aberystwyth Cliff Railway.
It has been transporting visitors to the summit since it's opening in 1896 and still to this day is very popular with the young and old.
Whether you walk the well-established winding path or travel at a leisurely 4 miles per hour on the funicular, your efforts will be rewarded when you reach the summit.
Magnificent views, a cup of tea and a slice of cake in the popular café and a play area for the children – what more could you ask for a great family day out?
The Aberystywth (Constitution Hill) Coast and Woodland walk
The longest circular route is 3.5 miles / 6km but shorter routes can be taken.
Take in the views of the 400 million old rocks along the coastline and try and spot birds like cormorants, fulmar and kestrels.
If you're lucky, you may be able to spot bottlenose dolphins and Harbour Porpoises from this fantastic high vantage point. Keep a pair of binoculars handy!
Bring out the adventurers in you and head inland on the path to get a taste of Penglais Woods and Cwm Woods – a fine display of bluebells in the spring awaits you!
The Camera Obscura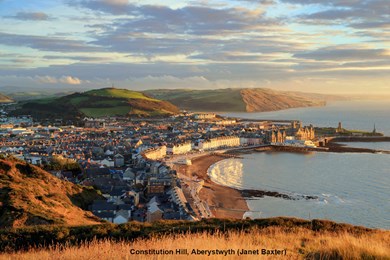 Perched at the summit of Constitution is one of world's largest camera obscuras. A recreation of a popular Victorian feature, it has a massive 14 inch lens which this lets you observe about 1,000 square miles of land and seascape with amazing clarity and precision.
Let the children choose their adventure and see where the camera obscura takes them!
Resources
Short walks
Aberporth
0.6 miles / 1 km
A section of path specifically designed for wheelchairs along the eastern end of Aberporth Bay with spectacular cliff top views of the Ceredigion coastline. Aberporth is also a great place for dolphin spotting. (Bus)
Aberystwyth to Clarach
1.7 miles / 2.7 km
This short section of the Coast Path passes over Constitution Hill which offers extensive views of Cardigan Bay and Aberystwyth as well as a cafe and the world's largest camera obscura. Find out more about the Aberystwyth to Clarach walk.
Aberporth to Tresaith
2 miles / 3.2 km
This cliff top route stretches from the eastern end of Aberporth Bay and affords spectacular views of the Ceredigion coastline and Cardigan Bay. The Aberporth half of this walk is wheelchair friendly. Find out more:
New Quay to Cwm Tydu
4 miles / 6.4 km
This route follows a section of the Heritage Coast and links National Trust land at Birds Rock, Cwm Soden and Cwm Tydu. Find out more about the New Quay to Cwm Tydu walk.
Cwmtydu to Llangrannog
4.75 miles / 7.5 km
Arguably the most spectacular part of the Ceredigion Coast Path, this section is Heritage Coast and includes the iconic Ynys Lochtyn. Llangrannog's lovely beach is home to Carreg Bica – a rock which, legend has it, used to be a giant's tooth. (Bus – certain days only). Find out more about the Cwmtydu to Llangrannog walk.
Mwnt to Aberporth
5 miles / 8 km
A remote section of Coast Path positioned along the tops of cliffs and coastal slopes and below the fringe of agricultural land. The tranquility and isolation of this section induces a feeling of separation from the pace of modern life. (Bus – certain days only). Find out more about the Mwnt to Aberporth walk.
Long walks
Llanon to Llanrhystud
5.8 miles / 9.3 km
A circular walk that takes in shingle beach, wooded lanes, open vistas of mountain and coast and Iron Age hill forts.  Find out more about the Llanon to Llanrhystud walk.
Aberystwyth Railway Station to Borth Railway Station
6 miles / 9.5 km
This is an interesting and challenging section of Heritage Coast with several big climbs. The walk links up the railway stations so that you can let the train take the strain on your return leg. Find out more about the Aberystwyth Railway Station to Borth Railway Station walk.
Aberaeron to New Quay
6.25 miles / 10 km
This walk, between two of Ceredigion's main coastal towns, offers spectacular cliff top views. Aberaeron is regarded as one of the most attractive towns in Wales with a square of elegant Regency-style buildings. At New Quay, the preferred route is along the beach, but at high tide you may have to follow the road. (Bus).Find out more about New Quay to Aberaeron walk.
Cwmtydu circular
6.9 miles / 11km
A spectacular and lovely route (best walked anti-clockwise) that highlights the glorious coastline and countryside. The walk offers stunning views of Ynys Lochtyn before heading inland through a beautiful wooded cwm before returning back to the coast. Find out more about the Cwmtydu circular walk. 
Aberystwyth to Llanrhystud
10.5 miles / 17 km
With no settlements between these locations and with few feeder paths, this is one of the least walked sections of the Ceredigion Coast Path. Despite its challenges, it is rewarding! Find out more about the Aberystwyth to Llanrhystud walk.